Monthly Archives:
August 2012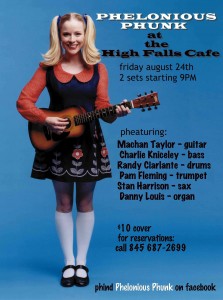 Last Friday's (August 24th) Phelonious Phunk show was a complete success. The house was packed tightly and the dance floor was full and grooving hard all night long. New tunes included "Hush" a tribute to recently deceased Jon Lord, the legendary keyboardist from Deep Purple, also a PH PH version of Steve Miller's "Fly Like An Eagle", and James Brown's "Talkin' Loud (and Sayin' Nothing).
http://www.mule.net/tour/mule.php
SEPTEMBER WEST COAST MULE DATES
We are pleased to announce that Gov't Mule will be returning to the West Coast for the first time since 2010 for seven new shows around the Telluride Blues & Brews Festival on September 15th. The Mule will be hitting Denver for an intimate show at the Gothic Theatre (9/12) and then performing at The Fillmore Auditorium the next night (9/13), followed by a stop in Vail, CO at the Gerald Ford Amphitheater (9/14). Then the Mule will be hitting Club Nokia in Los Angeles (9/18), the House of Blues in San Diego (9/19) and the Warfield in San Francisco (9/21) before ending the tour at the Grand Sierra in Reno (9/22).
GOV'T MULE OCTOBER TOUR | HALLOWEEN!
Gov't Mule will be hitting the road on the Eastern half of the US in October following their west coast run in September (dates below).  October will kick off with three very special shows in Georgia commemorating the shows from April of '96 that are packaged together as part of the Georgia Bootleg Box (available here.  With only one different venue, the Mule will make a similar journey to April of '96 and will stop in Athens at The Georgia Theatre, then play the Tabernacle in Atlanta before playing the Capitol Theatre in Macon.  We will also be doing some special events in and around these shows, so stay tuned.  There will be a ticket 3 pack for all these three shows as part of our pre-sale this Wednesday at Noon through Mule Ticketing.
After the tour kicks off in Georgia the Mule will be making stops in Birmingham, AL (10/20), Richmond, VA (10/22), Westhampton, NY (10/25), Boston, MA (10/26), Ithaca, NY (10/27), St. Louis, MO (10/30), Chicago, IL (HALLOWEEN), Indianapolis, IN (11/01), Columbus, OH (11/02) & Silver Springs, MD (11/03).  As per tradition the Mule will be doing something special on Halloween and would like to extend an invitation to Gov't Mule's Halloween Experience at The Rivera Theatre in Chicago.
Having just returned from the European leg of the summer Gov't Mule tour Danny Louis will be performing with Rosanne Cash on July 27-27 in Osceola, Iowa and August 15-16 in Ontario, Canada. (see tour page for details)
Danny played at The Ramble at Levon Helm's Studios Sat, Aug. 4th. Good buddy Brian Mitchell was honoring a prior commitment so Danny assumed the keyboard chair. Due to Brian's absence, Danny took the lead vocals on two tunes as well. In honor of Little Elliott Lloyd (Little Elliott Lloyd page) a Hudson Valley blues icon who passed away many years ago Danny sang the Flat Broke Blues, a obscure tune of uncertain origin (anybody know??) that Little Elliott performed often with the Funky Huns. The Huns' members included legendary bassist Harvey Brooks, Phelonious Phunk's very own Stew Cutler on guitar, and Danny Louis on keyboards, guitar and trumpet. Danny also sang the Question Mark and the Mysterians '60's hit "96" Tears.
Gov't Mule will perform at Hot August Blues in Cockeysville, Md on August 17th. (see http://hotaugustblues.com/lineup/)
Phelonious Phunk will be appearing at the High Falls Cafe on August 24th.